Each week we'll take a step back into the history of Great Bend through the eyes of reporters past. We'll reacquaint you with what went into creating the Great Bend of today, and do our best to update you on what "the rest of the story" turned out to be.
This week in 1958, one of Great Bend's own was about to make history. On Sept. 12, Great Bend's native son Jack Kilby demonstrated his first integrated circuit to his supervisor. One has to wonder if that day he understood he was on the brink of changing the world. 
On Monday this week, Op-ed writer Andy Kessler wrote about Kilby in his column, Inside View. 
"Sixty years. But how much longer? In 1958 Jack St. Clair Kilby — from Great bend, Kan. — created one of the greatest inventions, a great bend in the history of mankind. Kilby recently had started at Texas Instruments as an electrical engineer. Most Everyone left on a mandated summer break, but he stayed in the lab and worked on combining a transistor, capacitor and three resistors on a single piece of germanium. On Sept. 12, he showed his boss his integrated circuit. At a half-inch long and not very wide, it had ugly wires sticking out, resembling an upside-down cockroach glued to a glass slide."
He went on to mention the contributions of Bob Noyce in 1959, who developed the planar process, "to deposit aluminum wires above silicon transistors. Without the messy cockroach-leg wires, the integrated circuit, or chip, became manufacturable."
 "It's hard to find anything kilby's invention hasn't changed," he wrote. But, he noted, now, nanotechnologies are needed to increase the speed and power of the microchip. 
"The world needs another Great bend, another Kilbyesque warp in the cosmos, to drive the economy," Kessler opines. "Humanity will need a new stimulus soon. Let's hope the next Jack Kilby skipped this summer's vacation."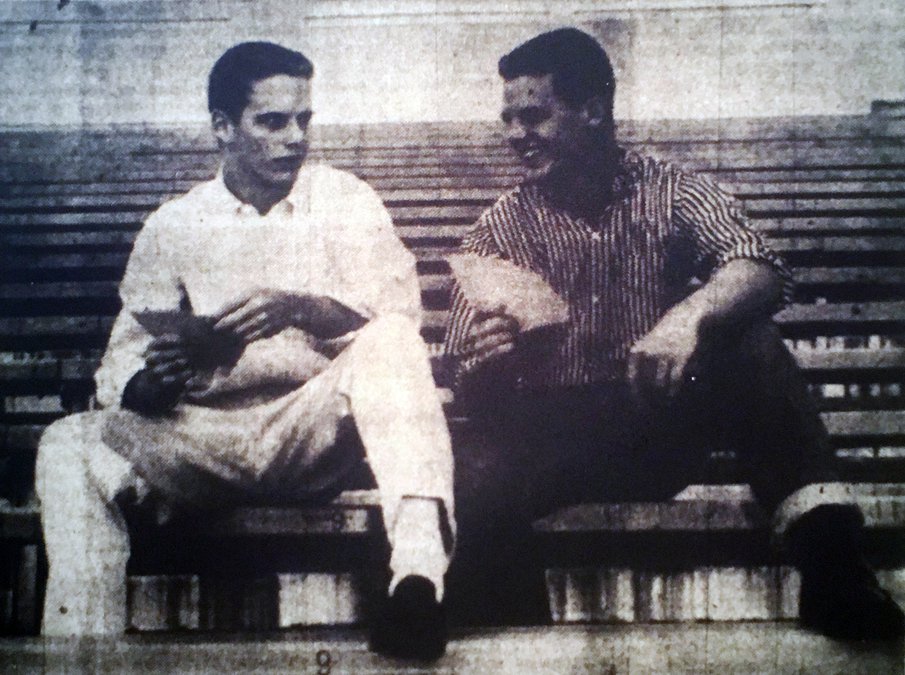 September spree
Meanwhile, as Kilby proceeded to change the world, kids at Great Bend High School were gearing up for football season..
Sept. 12 was a Friday. Thus, the headline, "GBHS Students Leave Trail in Friday Spree."
"A mischievous group of Great Bend teenagers dispersed Friday night after one of its members tumbled down the back of moving pickup truck onto US-281 highway north of here. 
"David Foss, 17, son of Mr. and Mrs. Don Foss ..., suffered a sprained arm. He was treated and released at St. Rose hospital following the accident. Foss also received a cut hand and bruised shoulder.
"The accident ended a 2 1/2 hour spree during which the group, numbering more than 100, whitewashed city streets, swam in two private swimming pools, and paraded through several local businesses plus the police station."
Yes, folks, this is what today's elderly were up to "back in the day." We had to laugh to think of them carrying on like this. Imagine if it were today?
"The group began whitewashing Morton street near the high school at 8 p.m. Friday. (This is an annual custom of high school students at cheerleader election time each school year. The election was held Friday." 
Now, if it was a tradition, could this be something Kilby himself might have taken part in at one time? 
"They moved downtown where members of the group paraded through the Zarah and Parrish hotels, the Crest theater and even the police station. 
"None of the downtown firms reported damage; just commotion." 
That's not to say no damage was done. At the country club, after the kids jumped in the pool fully clothed, at some point they began throwing pool furniture into the pool and breaking glass bottles, getting some broken glass in the pool. Then, they left. "The incident occurred about 10:30 p.m. Friday." 
"The youngsters also took a fully clothed swim in the Holiday Inn hotel's private swimming pool. Manager George Svatos said he saw the youths head for the pool and some of them began to climb a fence surrounding the pool. Svatos said he then opened the gate, and the group stayed only about 10 minutes." 
Later, some businesses reported small items missing, but Chief of Police Roy Hester was positive. 
"The police department likes to see them (teenagers) have a good time as long as they don't destroy property," he said. 
He pointed out that only a small percent of Great Bend's teenagers were represented in the group Friday night. And, he added, only a small percent of that group is responsible for damage to property.  
Truly, we live in different times. 
Going twice...
Also this week, a feature story appeared about two area students who recently completed auctioneer school in Kansas City. 
"Although they cry for a living and enjoy every minute of it, an auctioneer will tell you, 'There is nothing quite as important in this business as a good sense of humor." 
"This is one of the outstanding points learned recently by two young men who grew up only a short distance from each other. 
"Young Pat Keenan, who originally hails from the Seward community and Lowell Darcey, a Pawnee Rock High School graduate, have recently returned from two weeks courses of intensive study in the art of auctioning wares of all kinds."
Keenan was following in the footsteps of his father, and for Darcey, it was the fulfillment of an ambition he recalled having from as early as he could remember. 
"During high school, Darcey was always in demand as auctioneer at box suppers," 
Everyone uses the talents they have to change the world. For some, like Kilby, it's in big ways. For others, their reach may not be global or historic, but important nonetheless. All help pave the way for the next generation.