LARNED — Tuesday morning, high school students from Larned and Pawnee Valley High Schools and students from Larned Middle School attended an assembly sponsored by the Pawnee Valley Community Hospital Foundation and the Centers for Counseling and Consultation. The program was geared towards teens and addressed how trauma and mental illness can affect teens — and how finding people they can trust and being honest and open about their feelings can allow healing to start. Taking personal responsibility for turning their lives around was also a big part of the message. 

Middle school teacher shares her story
Featured was Larned Middle School science teacher Lucia Hagerman, who shared a personal story, and guest speaker Jeff Yalden, who shared what it is like to live with mental illness. Yalden is a youth motivational speaker who focuses on suicide awareness and prevention. While he shared several motivational phrases, the main purpose of the talk was to plant seeds of hope. 
"I don't know what any one person has going on in their lives," he said. "But wherever they are in life, there is something here that may take hold and offer them hope." 
Hope was the overarching message Yalden had to offer. It was also what Larned Middle School science teacher Lucia Hagerman offered when she shared with students her personal experience about growing up in and dealing with the fallout of a dysfunctional upbringing. Hagerman opened the program, sharing how she lived in a mobile home in a bad part of town when she was growing up. Her alcoholic parents fought often and had no kind words or time to spend with her. Going to school, for her, was an escape from home, and she worked hard and did well in school. In eighth grade, she said, her report card showed mostly A's, with one B. 
Her parents continued to fight and say discouraging things to her, and by 11th grade, she said, she hated her body and she always wore jeans so people wouldn't see how skinny she had become. She was sneaking out at night, smoking, drinking, smoking weed, acting more promiscuous, and by the end of 11th grade her report cards carried mostly C's and D's, she was cutting, and had made three attempts at suicide. It got worse, she said, as she graduated, was an unwed mother, and her boyfriend began to physically abuse her. 
As she told the story, she added weights to a backpack. She talked about how many of the weights in her backpack, she had allowed others to put there, but some she'd put there herself. When she was 20, she hit a very low point, and she became aware of God beginning to work in her life. 
"I looked in the mirror, and I realized I didn't like what I'd become," she said. She left her abuser, and with no money, moved back in with her parents. It wasn't good, and there were several obstacles to overcome, but somehow she found the hope to keep going. She had no resources, but signed up for welfare, state aid, and applied for college. She didn't know how she would find a way to put her son in day care. 
"God made a way," she said. As she took each new step, her self-esteem grew, and she found her inspiration to become a teacher. She found people she could trust and depend on, and she found forgiveness in her heart for her parents. 
As she shared how her life changed, she began removing the weights from her pack. 
"Don't put stuff in your backpack," she said. "Don't put stuff in other's backpacks. You don't know what they already came with. They may be so weighted down they can barely move, and you're seriously going to add more to their backpack? No."
She also encouraged them to come to class prepared with paper and pencils, to do their homework, and not to do drugs and other things that weigh them down.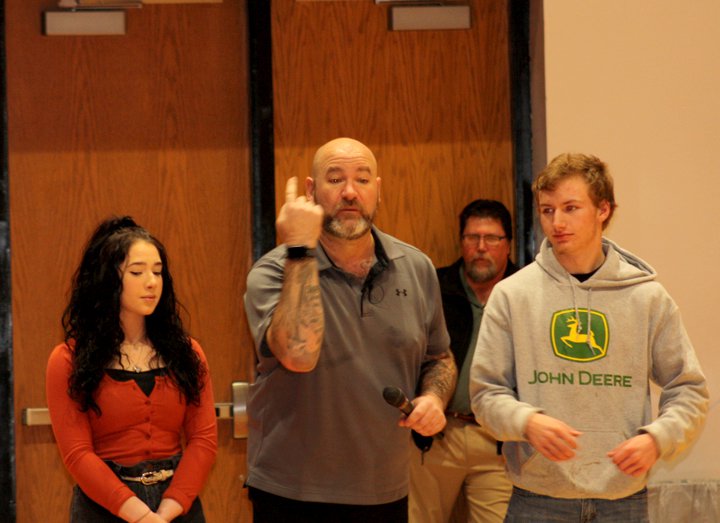 Living with mental illness
Yalden then took the floor. At first, he shared his appreciation for Hagerman's story. 
"That was about life," he said. "My talk, that talk, it's about life." 
The hardest person to get to know is yourself, he said. For the next hour and a half, he shared his journey of self discovery, and how he was finally compelled to seek counseling and was diagnosed with Bipolar type 2 and PTSD. He lives with major depression.
"It was then that I realized that my mental illness was bigger than I ever imagined," he said. It also forced him to get to know who he was.  
He shared about how emotional trauma and an undiagnosed learning disability affected his early life, and how low self esteem drove decisions he made that exposed him to further trauma as a young man, and all of that had culminated into the mental illness he deals with today. 
"It's not your fault people put stuff in your bag, but it is your responsibility," he said. Turning things around requires honesty and trust, and implementing routines. 
"Every morning, you need to wake up, get up, dress up, and show up," he said. "Nothing happens if you don't show up." 
Limit screen time
Both Hagerman and Yalden spoke about how screen time affects emotions and mental health. Hagerman spoke about her love of music, and how new songs similar to what she already likes continue to be suggested to her through her music apps. 
"Technology does what we train it to do," she said. "You choose what you listen to and let in to your life."
Yalden spoke about frequency of screen use. People who spend more than four hours a day engaged with their smartphones more than double their susceptibility to major depression. 
"Put your phones down, and get more involved in life," he said. 
Tuesday evening at the PVCH Foundation Community Conversation, "The many faces of Mental Health," Yalden delivered a more adult oriented program. 
His talk addressed mental illness, the importance of counseling, parenting strategies to help strengthen teen self-esteem and increase vigilance of signs pointing to self-harm and suicide. 
Yalden and representatives from the Center for Counseling and Consultation were available after the presentation to talk.